Pesky Parasites: The Importance of Flea and Tick Prevention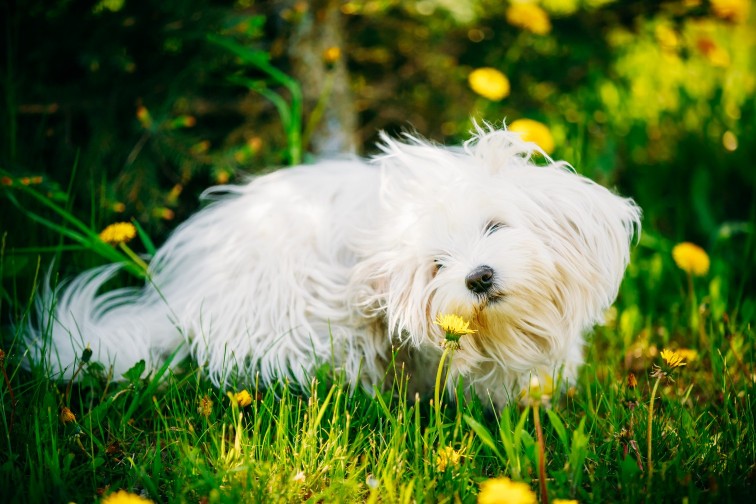 Spring fever? Not yet, but it will be here before your know it! Soon you will start seeing flowers in planters, a warm breeze from time to time and definitely more bikes on the road.

Our pets feel this change in the air just as much as we do, and they are usually ready to get outside and enjoy some spring breezes and sunshine, too. But a little extra time outside can also remind us that parasites that live on our pets are ready for warm weather, too.

As we enter peak season for bugs, it's time to focus on flea and tick prevention so that we can guard against potentially life threatening diseases, health concerns, and major discomfort for your pets and for you! All Creatures Veterinary Hospital of Brooklyn shows you the way.
Fear the Flea
Female fleas can lay 40 eggs in a single day. So if you see even one flea in your home or on your pet, chances are you are sitting on the edge of a full blown infestation. Infestations can occur in carpet, upholstery, bedding, vents (and anywhere else you can think of), and are time consuming, expensive, and frustrating to eradicate.

Flea bites are not only uncomfortable for your pet, they may trigger a serious allergic reaction known as Flea Allergy Dermatitis, which can cause painful hot spots, hair loss, and resulting chronic ear and skin infections. Fleas also carry zoonotic diseases (can be passed to humans) such as Bartonella and tapeworms.
Tick Tales
Tick bites are painful and uncomfortable for your pet, but they're also dangerous. The diseases they carry and can transmit include Lyme disease, Anaplasmosis, Rocky Mountain Spotted Fever, Ehrlichiosis and Babesiosis – diseases that can be life threatening for both you and your pet.

Ticks are hard to spot, and usually transmit disease within 24-48 hours of imbedding into your pet's skin. If your pet is infected, you can expect months and even years of expensive treatments and medications. Not fun for anyone!
Flea and Tick Prevention That Counts
All these reasons add up to one thing – maintaining a year round program of monthly flea and tick prevention is imperative to your pet's health. Preventive medication is either taken topically or orally, and is administered every 30 days. These medications are safe, relatively inexpensive, and can eliminate fleas, ticks, mosquitoes, and intestinal parasites for good. And that's the good news!
Other Help
Keeping your yard and home clear from the flea and tick is another way to help prevent parasite infestation. Fleas and ticks flourish in damp, overgrown damp places, so use the following measures:

Remove fallen leaves, keep bushes pruned, and clean up wood piles and any overgrown areas.
Wash your pet's bedding and toys frequently.
Inspect your pet regularly for any sign of fleas and ticks, especially after time outdoors.
If you've let your pet's monthly preventive lapse this winter, don't despair. Give us a call and we can help get your pet back on track. At your pet's preventive care exam, our team will talk with you about your pet's needs and recommend a preventive that fits with those needs. And with iCal as well as other technology available today, it's easy to remember when your pet's next dose is due.

We look forward to hearing from you soon!