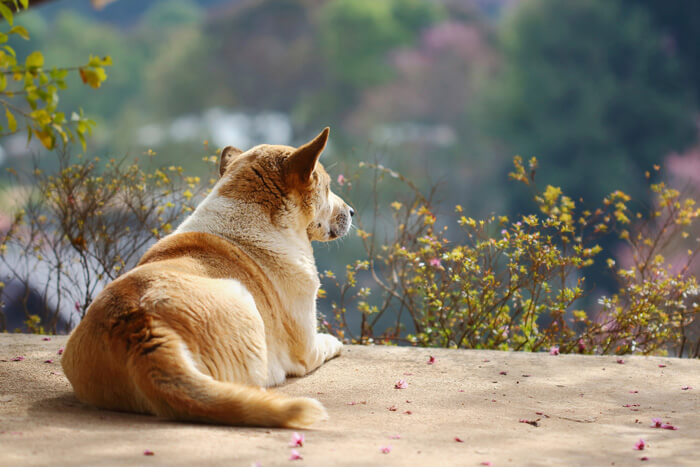 For your pets, the end of life should be a comfortable passing surrounded by love, a tribute to the rewarding relationship between our animal companions and their human family members. All Creatures Veterinary Hospital in Brooklyn is dedicated to creating a peaceful, easy passing whenever possible. We are committed to using only the most humane means to eliminate pain and suffering.
Palliative Care for Pets
When there is no means for a cure, treatment is focused on bringing comfort by eliminating pain and optimizing quality of life. Pain management may consist of a combined approach, including both traditional and alternative treatments.
Traditional care may include surgical removal of tumors and masses, pharmaceutical treatments, infection control, and fluid replacement. Alternative therapies include acupuncture, laser therapy, and nutritional support. Recommended environmental modifications may include mobility aides such as ramps or braces, even diapers and stay-dry beds to maintain comfort when mobility is impaired.
Humane Euthanasia
We help you create a plan to keep your companion comfortable until the end. Our veterinary team counsels and supports you in making difficult decisions surrounding your pet's passing, from adding and removing treatments to determining the time for euthanasia.
Our euthanasia drugs are fast and effective, for a gentle and compassionate release. You decide if you would like to be present to comfort your pet throughout the process, or if you prefer to say goodbye while your pet is still with us. Whatever you choose, we support both you and your pet with care and respect.
Cremation & Burial
Our team assists you in fulfilling your wishes surrounding aftercare. We help you access cremation and burial resources and products. In addition, we offer a variety of resources for you and your family when preparing for the end or after your pet has passed.
Pet Loss Resources
Visit our pet loss library for a wide variety of articles about managing grief and loss.
Contact ACVHB to discuss your needs at the end of a pet's life.