Veterinarian
Amy Onderdonk, DVM

Veterinarian
Dr. Onderdonk joins us after spending 13 years at a veterinary practice in northern NJ. She graduated from Tufts University School of Veterinary Medicine in 2003 and then completed an additional year of training during a rotating internship in medicine and surgery in 2004. She looks forward to being able to offer acupuncture to her patients when she completes her certification course at the Chi Institute in the fall of 2018. While she enjoys the multi-facetted demands of being a veterinarian, especially surgery and endocrine diseases, the relationships she builds with her patients and clients is the part of her job that she treasures the most. Because each patient has unique needs, she strives to work closely with owners to create treatment plans that best serve their and their pet's individual situations and aims to make visits as stress-free as possible. Outside of work she enjoys cycling, running, Pilates, music (singing, playing, listening), and all the amazing restaurants that Brooklyn offers. Her menagerie of pets includes her senior rescue dog Keisha, a partially blind cat named Little Bee and a feral cat named Turtle.
Erica Morgan, DVM

Owner
Erica Morgan, co-owner of All Creatures, wanted to be a veterinarian ever since she spent weeks researching dog breeds in an attempt to win over her parents' permission to get one (her mother was hoping she could find one that would neither bark nor shed!). She studied English at Yale and did her post baccalaureate at Columbia before enrolling in Cornell's School of Veterinary Medicine in 1999. Since graduation in 2003 she has practiced along the East Coast from Syracuse, NY to Reston, VA, and points in between. Erica is thrilled to be offering her services to creatures in the Brooklyn area. She has a particular interest in dentistry, internal medicine, control of chronic pain conditions (Dr. Morgan has completed advanced coursework in both acupuncture and trigger point therapy), and in improving the quality of life of senior pets. Out of the hospital Erica enjoys vegetarian cooking, hiking, reading, occasional binge watching TV, and snuggling on the couch with her husband and one or more of her rescue animals.
Staff
Rafael Hernandez

Veterinary Assistant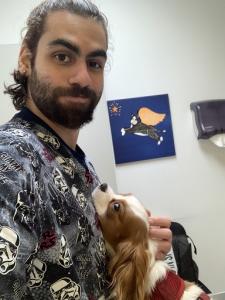 Rafael, born in Venezuela in 1994, he grew up surrounded by animals, especially dogs, owned and rescued. At the age of 17 he started to actively rescue dogs and cats from the streets of Caracas.
After coming to the United States he remained inspired by his love for animals. Finding his way to the Big Apple, he joined All Creatures as an intern for his assistant certification and soon became an integral part of the team. Now he is furthering his studies in the field. He shares his home with his wife Fernanda, dog Patricia and cat Benita.
Brittanie Martin

Head Receptionist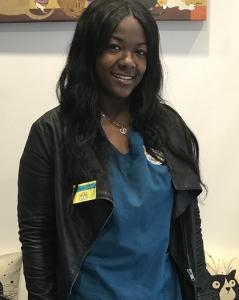 Brittanie was born and raised in Brooklyn NY and found her passion in this field of work due to the love for animals and hospital administrations. Brittanie has a Bachelors degree in Health Sciences and working toward getting a bachelors in Business Administration. She joined the All Creatures Vet team in May of 2017 and enjoys interacting with all of clients that walk into the hospital. During her time outside of work Brittanie enjoys hanging out with friends, eating Mexican food, studying and being with her puppy Bella!
Kimmy Mazzola

Technician/Inventory Manager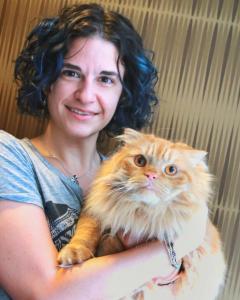 Brooklyn born and raised, Kim always preferred stuffed animals over baby dolls and the Coney Island aquarium over any park. She loved animals and had her fair share of exotic pets. She knew she did not want to be a veterinarian, but didn't realize she could still be involved in animal medicine until she took a position cleaning a veterinary office. Her responsibility also included feeding the boarding cats and animals up for adoption. She found her calling, and she was a strong advocate for the quality of care and comfort of the hospitalized patients while she moved up the ranks to become a head technician. She became close friends with doctors who shared the same interests and goals as her: keeping a strong work ethic with a small team, a love of world-traveling, donating time to charity work locally or abroad, and ordering lunch online!
Miriam Martinez

Veterinary Assistant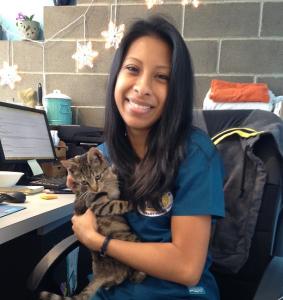 I have always wanted to work with animals as a child. My passion finally came true when I graduated from Animal Behavioral College and got my Veterinary assistant certificate in 2014. I have been working in an animal hospital ever since, I loved it so much that now I am currently enrolled in Penn Foster College to become a licensed Veterinary Technician. I am looking forward to learning so much more and becoming a great vet tech. Growing up I was never allowed to own a pet but today I have 2 fish tanks and 2 parakeets. Outside of work I love to swim, hang out with friends and family and spend time with my 3 wonderful children and husband.
Charles Russell

Practice Manager/Technician
Charles grew up in Pennsylvania and animals had a strong influence in his life from an early age. He grew up with many different pets, including turtles, cats, and horses. Two years into his undergraduate degree for Forensic Science, he began working at a veterinary hospital for a summer job, and, soon fell in love with the field. Starting from humble beginnings as a kennel staff member, he soon trained to become a veterinary assistant, and then an animal nurse. After moving to Brooklyn, he soon became head technician at large local practice where he worked for 9 years. He joined as Practice Manager at All Creatures Veterinary Hospital of Brooklyn at its opening in 2016. He is currently midway through achieving his academic designation of Certified Veterinary Practice Manager (CVPM) and is very excited to be working with such a dedicated, talented, professional staff. He shares his home with two rescue cats...or rather they share with him. In his free time, he loves travel, kickboxing, target archery, and community gaming events.