Pet Supplements: What You Should Know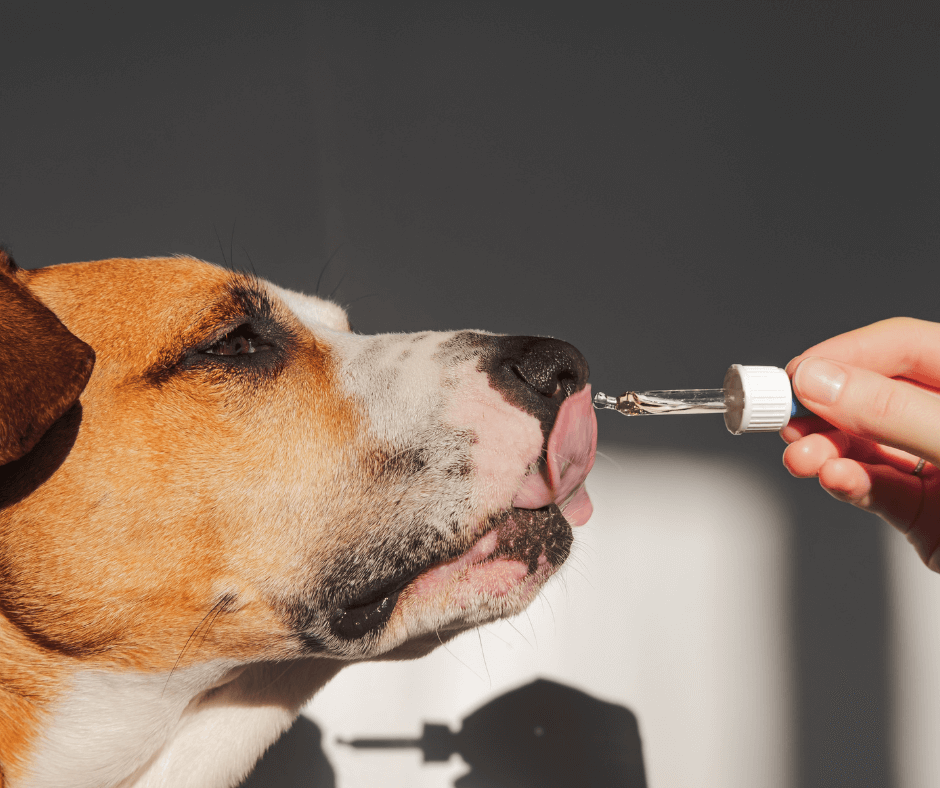 With the recent legalization of recreational marijuana in New York state, virtually every bodega is now selling CBD products — even for our pets, right next to the kibble and the cat litter! If you feel a natural wariness about the corner store CBD's efficacy, you wouldn't be wrong. CBD products — and veterinary supplements in general — exist in that gray area of medicine, where they should not be used without a doctor's recommendation, but can still be purchased over the counter without a prescription. Because of this, and the lack of FDA regulation over pet supplements, there are virtually no guidelines or standards that manufacturers need to abide by in order to market or sell products labeled as pet supplements. So, how do pet owners ensure that products are safe, and that they're getting their money's worth?
What Makes a High-Quality Supplement?
First of all, for a veterinary supplement to be effective, the product must contain the scientifically recommended dosage of its particular active compound. Because there is so little oversight, many popular brands contain too small a dose to have any noticeable health benefits.
Secondly, the most reputable and reliable manufacturers are certified members of the National Animal Supplement Council, a voluntary organization that performs third-party, unbiased audits and efficacy testing. (NASC was formed in 2001 to act as a regulatory body for the animal supplement industry.) Even if you don't see an NASC-certified seal on the packaging, you can check to see if a supplement is on the list of certified manufacturers here.
Despite the best efforts of NASC to regulate the animal supplement industry, manufacturers are not required to join, nor to have their products tested at all. The result is that countless brands are being sold in pet stores with potentially dangerous ingredients, or which contain the proper ingredients in insignificant doses that are ultimately ineffective. Purchasing supplements online further complicates this problem: A few years ago, we had a client report that Google's search algorithm suggested cow tranquilizers when she was hunting for an anti-anxiety supplement for her dog! Not to mention the numerous reports of counterfeit or expired supplements being offered by third-party sellers on sites like Amazon.
Our Recommendations
Below is a list of commonly used pet supplements, including the specific brands that we recommend to our clients. Each of these products contains the scientifically recommended dosage of its particular active ingredient, and most are also certified by the National Animal Supplement Council.
Probiotics: Used for maintaining gastrointestinal health. We recommend FortiFlora, Visbiome Vet, and Entero Flora Pro Powder.
CBD: Used for anxiety and pain reduction. We recommend ElleVet.
Omega-369/Fish oil: Used for skin and joint health. We recommend Welactin and Nordic Naturals.
B12: Used for immune and intestinal health. We recommend Cobalequin as an oral supplement when injections are not an option.
Glucosamine: Used for joint health. We recommend Dasuquin, Cosequin, and Glycoflex.
Denamarin: Used for liver health. We recommend Nutramax Denamarin.
Check in with Your Vet
Although veterinary supplements are easily obtainable and do not require a prescription for purchase, that doesn't necessarily mean you should run out and put your pet on glucosamine or CBD after reading this article. Supplements are still medications, and should not be used without your veterinarian's guidance. So, if you're ever curious about putting your pet on a supplement, please give us a call — we'll be happy to set up a consultation or have you speak with someone from our medical staff.
" The level of understanding from the surgeon I spoke with was greatly appreciated. Especially during a tough time. "

" The best veterinarian hospital for my fur baby. "

" Always a great and informative visit. "

" The staff at All Creatures is really kind and attentive to the needs of my little Rogelio. I've seen Dr. Onderdock various times and she is the absoute best. It's evident that she genuinely cares about the well being and progression of Rogelio! "

" I like that Doctor Morgan is Frankie and Jack's vet and feeling like she is invested in the well being of our cats. She is also conscious of our pocketbook too. The vet tech's are always warm, friendly and are so good with my cats. "

" I feel grateful every day that there is a veterinary clinic this good in my neighborhood! They have compassion for animals, and also seem to really enjoy them--it is not just their job--they take an interest. The staff and vets are always helpful. "

" A great experience with a caring vet, a clean office, and a kind staff. "

" All staff was professional and pleasant. Really nice experience! "

" Best care for Paulie I have ever encountered... I travel from Manhattan (where there are plenty of vets... as a matter of fact there is one across the street from me...) and I still go to Brooklyn to see Dr. Morgan. I wouldn't go anywhere else!! "

" We love Dr Morgan. She takes the time to listen and formulate her opinion and a proper way forward with your pet. You really feel that you are benefitting from a smart doctor and the years of education she absorbed. Thanks for all the concern & care. "

" Every vet and nurse at All Creatures has been so attentive and loving to my cats, and to me, through good times and bad. I would happily recommend them to all my pet owning friends. "

" Always great attitude, assistance, and helpfulness with staff regarding questions. All staff loves dogs and it shows when Gus is around. Best vet I've had in NYC. So glad I was referred by a friend. "

" We are so happy we found you! "

" The doctors and office staff are very nice and pleasant. My 2 dogs also like their vets and I am satisfied with the care they've received. "

" This place is great, everyone on staff is very helpful and always treat us with great care. "

" Everyone was friendly, I never felt like I was being "sold" anything and the staff obviously care so much about the well being of my dog. "

" We were very nervous about neutering our 2 yr old mini schnauzer but knew it was the right thing to do. The staff was so friendly and professional and eased our fears, even from the 1st call. They treated Chico Jr like family! "

" Dr Erica Morgan is professional, knowledgeable and caring. The atmosphere in the office is loving. Everyone is more than helpful and understanding. "

" literally the best! everyone is so nice and kind and explains everything to us! "

" Dr. Morgan made Pepper's first vet visit a breeze! She took the time to answer all of my questions. She seemed to genuinely love caring for animals - I immediately felt that I could trust her 100%. I'm so happy I found her! "

" Dr. Morgan really took a lot of time to talk with us about starting our pup on meds - something I was stressed and unsure about. She was as compassionate as she was intelligent and in just one visit I have come to trust her very much. "

" prompt, courteous, professional service...what else could a pet ask for? "

" Because from the front desk to the back room, you're all great! "

" Everyone was kind and helpful. My dog can be very skittish with new people but the staff was very patient and understanding. "

" 1st visit - was impressed by courtesy, info and care provided. "

" Thanks for the quick and friendly service! I always feel satisfied when I leave the vet's office and find the doctor and staff to be extremely warm and welcoming. "

" All Creatures is run by extremely friendly, passionate and knowledgable people. Every time we visit, I feel lucky to have found doctors and staff that take great care of my oh-very-sensitive pooch. "

" All creatures did an incredible job with my little girl. They did everything possible to help her stay alive even though her journey came to an end the doctors and staff still managed to help me make arrangements and for that I'm very appreciative. "

" I've never received such compassionate service from a vet's office. Everyone I have met has been genuinely pleasant speak to and very helpful. I plan on bringing the rest of my furry family here. "

" I have recommended you several times and left fliers/cards in my building--love the place. Even Henry doesn't mind (too much). Kind friendly compassionate reasonably priced--what more is there to ask for. Good hours too. "

" Everyone there was very kind, patient, and understanding. They weren't rough with my cat, and if my cat absolutely didn't want something done, the vets respected it. I felt very comfortable with all the employees I met that day. "

" I had a great experience here! Everyone was friendly and helpful, I didn't have to wait, it was clean, and I felt like my kitten was in great hands being treated here. "

" I am so pleased that I chose Dr. Morgan to treat my dog's arthritis. Dr. Morgan has a gentle, no-nonsense approach that I (and my dog) truly appreciate. I recommend All Creatures Vet Hospital to anyone seeking quality care for their beloved pet. "

" We brought our puppy here and she was seen so quickly. Dr. Morgan took the time to make our puppy feel comfortable before examining her. And took the time to explain everything to us as new puppy parents. Overall great experience. "

" I love All Creatures Vet Hospital. Staff is curteous and you feel welcome. You can rest assure they care about the animals they provide services to. They even gave us a wellness checkup call. This is our Vet from now on. Thank you All Creatures Vet. "

" My dogs are new patients and have received good care on short/urgent timing! "

" Everyone, from the receptionist to the veterinarian, was very nice, and the veterinarian was extremely patient with us and answered all of our questions. "

" I really like everyone here and thank you for the great care so far with Mr. Fluffy and Paikea. "

" Welcoming, knowledgeable and very pleasantly concerned staff! "

" You continue to treat Memphis as if he were family. We trust he is in good hands which is the most important thing to us in terms of care for our little man. "

" Our 3 year search for a fantastic vet ended when you opened All Creatures! Gritz was handled roughly at his previous vet and it made an impact. Now he tries to go in every time we pass your door. "

" The office was a very friendly and clean atmosphere. The doctor was very gentle with my pets and also answered all my concerns. "

" Our visit was truly an overall perfect experience. "

" So grateful to have found All Creatures Vet. I was struggling to find a vet that was affordable AND trustworthy. I've been looking and trying vets. Thank you All Creatures for taking good care of me and my cat. "

" Staff was friendly and knowledgeable and took the time to follow up post appointment. "

" Everyone I interacted at in this office was friendly, professional and clearly care about the animals being brought in. The follow up calls to check on George amazing and unexpected. So, what more could a pet owner ask for?? "

" I enjoyed my experience and the staff was very helpful and friendly. "

" Everyone was extremely helpful and thorough! "

" Over the past 45 years I have lived with lots of cats and dogs, and I have visited MANY veterinarians. All Creatures is the best. The beautiful facility, the friendly and helpful staff, and the dedicated and nurturing doctors are all outstanding!! "

" Friendly, professional staff. Answered all my questions. Gave clear directions on how to care for my cat after surgery. "

" I have been to at least 8 different vet practices, and this is BY FAR the best. The facility, the care, everything is superlative! "

" Lovely and very caring staff who took their time to explain everything to me and offer different treatment options. "

" Clean, efficient, listened and very helpful on getting my dog fit for international travel! "

" I loved our visit to All Creatures because everyone was warm and friendly. It was clean and inviting. I was recommended by a friend who spoke very highly of Erica Morgan, so I wanted to try it out. She was professional, compassionate and smart! "

" You guys are simply the best! "

" Everyone was kind, informative and thorough with each step of the experience. You could tell Bast was well cared for when he returned in great shape and great spirits after surgery. "

" Both Leo and I love Dr. Morgan. I feel that my drama queen beagle is in good hands. She cares about Leo and her history and will do the right tests to understand what is wrong. I also appreciate the blend of traditional and holistic treatment. "

" I had a great first experience at your clinic. The vet did a great job of making my anxious cat feel comfortable at her appointment and she was well cared for. Thank you! "

" Convenient, ease in getting quick appointment. Clean, friendly, welcoming environment. Attentive and knowledgeable to all concerns. "

" Dr. Morgan and her staff are a breath of fresh air in the local field of veterinary care. The service they provide is highly knowledgeable, thorough, personable and trustworthy. I will be recommending All Creatures to my friends and clients! "

" Fast and friendly, lots of good advice and attention to detail. "

" As a matter of course, I don't tend to recommend businesses to friends, but I am telling everyone about you guys because you are the best and I love animals enough to tell everyone so! "

" Above and beyond pet care! They sent someone with a carrier to help us get Rambo to his appointment. Everyone was really kind and really knowledgeable and seemed to really care! Best possible first vet experience for us and Rambo! "

" This group of passionate & dedicated professionals is exactly what we were looking for. They made us feel welcomed and valued but most importantly they knew how to handle & care for our skittish, senior, feline son. They never made us feel rushed. "

" We are so lucky we found you guys! Dr. Morgan and and the entire staff have been so patient with us as new puppy owners, answering all our questions and beyond. The communication and follow up has been great! "

" Personal and professional service with thoughtful and planned care for my dog. "