Veterinarian
Dr. Erica Morgan, DVM

Owner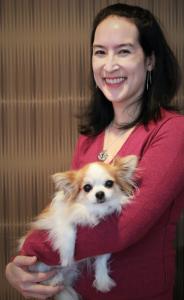 Erica Morgan, co-owner of All Creatures, wanted to be a veterinarian ever since she spent weeks researching dog breeds in an attempt to win over her parents' permission to get one (her mother was hoping she could find one that would neither bark nor shed!). She studied English at Yale and did her post baccalaureate at Columbia before enrolling in Cornell's School of Veterinary Medicine in 1999. Since graduation in 2003 she has practiced along the East Coast from Syracuse, NY to Reston, VA, and points in between. Erica is thrilled to be offering her services to creatures in the Brooklyn area. She has a particular interest in dentistry, internal medicine, control of chronic pain conditions (Dr. Morgan has completed advanced coursework in both acupuncture and trigger point therapy), and in improving the quality of life of senior pets. Out of the hospital Erica enjoys vegetarian cooking, hiking, reading, occasional binge watching TV, and snuggling on the couch with her husband and one or more of her rescue animals.
Staff
Charles Russell

Practice Manager/Technician
Charles grew up in Pennsylvania and animals had a strong influence in his life from an early age. His family always had pets from turtles, to cats, and even horses. Two years into his undergraduate degree for Forensic Science, he began working at a veterinary hospital for a summer job, and, soon his life shifted gears. Starting from humble beginnings as a kennel staff member, he soon trained to become a veterinary assistant, and then an animal nurse. After moving to Brooklyn, he soon became head technician in a large and very busy Brooklyn hospital where he worked for 9 years. He is now very excited to be starting as Practice Manger at All Creatures Veterinary Hospital of Brooklyn. He is currently midway through achieving his academic designation of Certified Veterinary Practice Manager (CVPM) and is very excited to be working with such a dedicated, talented, professional staff. He shares his home with three rescue cats...or they share their home with him. In his free time, he loves to travel, try the cuisines of New York City, practice target archery, and enjoy the great outdoors.