Veterinarian
Dr. Erica Morgan, DVM

Owner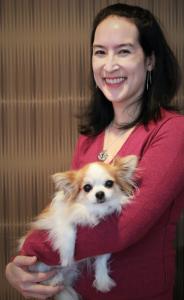 Erica Morgan, co-owner of All Creatures, wanted to be a veterinarian ever since she spent weeks researching dog breeds in an attempt to win over her parents' permission to get one (her mother was hoping she could find one that would neither bark nor shed!). She studied English at Yale and did her post baccalaureate at Columbia before enrolling in Cornell's School of Veterinary Medicine in 1999. Since graduation in 2003 she has practiced along the East Coast from Syracuse, NY to Reston, VA, and points in between. Erica is thrilled to be offering her services to creatures in the Brooklyn area. She has a particular interest in dentistry, internal medicine, control of chronic pain conditions (Dr. Morgan has completed advanced coursework in both acupuncture and trigger point therapy), and in improving the quality of life of senior pets. Out of the hospital Erica enjoys vegetarian cooking, hiking, reading, occasional binge watching TV, and snuggling on the couch with her husband and one or more of her rescue animals.
Staff
Samantha Breidenbach

Reception/Vet Assistant
Chances are you've already met Sam in one way or another, she is the voice of our welcome greeting and the face you likely see when you enter the hospital. She's been an outstanding team member since August 2016 and is a recent graduate of Animal Behavior College where she received her Veterinary Assistant Certification.
When Sam isn't working she enjoys walking her handsome rescue cat, Beedoo, in Prospect Park, watching japanese anime, crocheting and playing multiple different musical instruments. She has a keen interest in reptiles and arachnids and hopes to go back to school to ultimately become a Veterinary Technology Specialist in Exotic Animals.
Kimmy Mazzola

Technician/Inventory Manager
Brooklyn born and raised, Kim always preferred stuffed animals over baby dolls and the Coney Island aquarium over any park. She loved animals and had her fair share of exotic pets. She knew she did not want to be a veterinarian, but didn't realize she could still be involved in animal medicine until she took a position cleaning a veterinary office. Her responsibility also included feeding the boarding cats and animals up for adoption. She found her calling, and she was a strong advocate for the quality of care and comfort of the hospitalized patients while she moved up the ranks to become a head technician. She became close friends with doctors who shared the same interests and goals as her: keeping a strong work ethic with a small team, a love of world-traveling, donating time to charity work locally or abroad, and ordering lunch online!
Miriam Martinez

Reception/Veterinary Assistant
I have always wanted to work with animals as a child. My passion finally came true when I graduated from Animal Behavioral College and got my Veterinary assistant certificate in 2014. I have been working in an animal hospital ever since, I loved it so much that now I am currently enrolled in Penn Foster College to become a licensed Veterinary Technician. I am looking forward to learning so much more and becoming a great vet tech. Growing up I was never allowed to own a pet but today I have 2 fish tanks and 2 parakeets. Outside of work I love to swim, hang out with friends and family and spend time with my 3 wonderful children and husband.
Charles Russell

Practice Manager/Technician
Charles grew up in Pennsylvania and animals had a strong influence in his life from an early age. His family always had pets from turtles, to cats, and even horses. Two years into his undergraduate degree for Forensic Science, he began working at a veterinary hospital for a summer job, and, soon his life shifted gears. Starting from humble beginnings as a kennel staff member, he soon trained to become a veterinary assistant, and then an animal nurse. After moving to Brooklyn, he soon became head technician in a large and very busy Brooklyn hospital where he worked for 9 years. He is now very excited to be starting as Practice Manger at All Creatures Veterinary Hospital of Brooklyn. He is currently midway through achieving his academic designation of Certified Veterinary Practice Manager (CVPM) and is very excited to be working with such a dedicated, talented, professional staff. He shares his home with three rescue cats...or they share their home with him. In his free time, he loves to travel, try the cuisines of New York City, practice target archery, and enjoy the great outdoors.